INTRODUCTION
WHAT IN THE END FORCES PEOPLE TO CHOOSE THEIR OWN WAY AND THEREBY STEP OUT FROM THE UNCONSCIOUS IDENTITY WITH THE CROWD LIKE FROM THE MIST? IT CAN'T BE NECESSITY BECAUSE IT PRESSURIZES MANY OF THOSE WHO SAVE THEMSELVES IN CONVENTION. IT CAN'T BE MORAL DETERMINATION BECAUSE IN PRINCIPLE PEOPLE CHOOSE CONVENTION. WHAT THUS INEVITABLY DECIDES FOR THE BENEFIT OF SOMETHING REMARKABLE? - IT IS THAT INNER DEFINITENESS, IRRATIONAL FACTOR WHICH FATEFULLY COMPELS ONE TO EMANCIPATE FROM THE HERD AND ITS STAMPED PATHS. THE REAL PERSONALITY ALWAYS HAS AN INNER DEFINITENESS AND BELIEVES IN IT, IT HAS PISTIS TOWARDS IT (TRUST, BELIEF), LIKE IN GOD, ALTHOUGH AN ORDINARY PERSON WOULD SAY THIS IS JUST AN INDIVIDUAL SENSE OF MISSION . BUT THIS INNER DEFINITENESS WORKS LIKE THE LAW OF GOD TO WHICH IT IS IMPOSSIBLE TO BE UNFAITHFUL. THE REALITY THAT MANY GET KILLED ON THEIR OWN PATH DOESNíT MEAN ANYTHING TO PEOPLE WHO HAVE THEIR OWN INNER MISSION . THEY HAVE TO BE FAITHFUL TO THEIR LAW AS IF IT IS A DEMON WHO WHISPERS THEM NEW AND UNUSUAL PATHS. THE ONE WHO HAS A MISSION , WHO LISTENES TO THIS INNER VOICE, THIS ONE IS CHOSEN.
C. G. Jung
There is no doubt that Ayrton Senna was chosen. He had followed his mission to the last moment, to that, to many people incomprehensible, 1st of May 1994. He stayed faithful to his inner voice and law of God which had obliged him to give himself completely, without reserve, to millions of people around the world. He literally dispensed himself to the last drop of blood - a student worthy of his Teacher.
People usually donít use such metaphors to describe a person in the world of sport. In that world you can find heroes, idols, people who are ready even to sacrifice their lives for the best result and they are all special people with their own motives and they can be understood. In a sports sense Ayrton Senna was all of that but he was also something more - Ayrton is still something more. His human power, gentle heart and loyalty to his own being created an exceptional quality which survived his physical death. And this is the reason that todayís memory of Ayrton Senna is neither one layered nor formal. His strong personality has influenced many and I believe that to some of them, including me, it has become an example how we should live, because you do not bring people up with words but with an example, and Ayrton knew that.
"I would like to provide concrete proof that we can really push back our limits, that this strength that we can find in ourselves does enable us to improve constantly", he was thinking.
It is known that he himself found his strength in his religion. How? This is not so well known. "I take the things that are written in the Bible word for word seriously and Iím trying to comprehend life through God", he once said. That is how he was doing it - consistently and faithfully.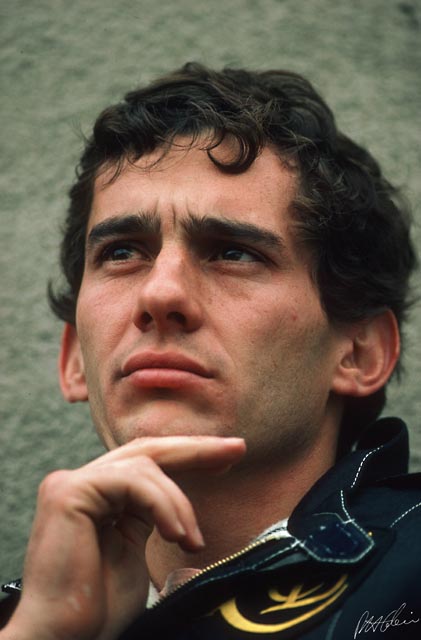 When he tragically died, lots of people fetched a deep sigh: "Oh Lord, he was only 34 and this is Jesusí age". If we want to comprehend Ayrtonís attitude toward life we unavoidably need to listen to Jesusí messages, not the way they are served to us by all sorts of sterile religious communities, but the way Jesus himself demanded. "I have set you an example that you should do as I have done for you", he said. Ayrton lived his life according to this example and he himself became an example to other people, he was one of those who comprehended Godís behest correctly: not only words, acts! That is why any other attempt to explain the personality of Ayrton Senna (if one omits this key fact) unavoidably contradicts itself and that is the reason why I have tried here to describe his life the way he lived it - in community with God with whom he talked publicly, in front of everybody, living his every day according to Godís law. He was not a bigot, he prayed to God constantly through his actions.
While I was writing this story of Ayrton (the leading word is given to Ayrton himself and therefore this is his story), I was accompanied by music all the way so this epitomized account of his life has its musical background. Music is a very powerful means, a mysterious language of a common experience of reality and listening to the great artist Freddie Mercury (whose music Ayrton also loved very much), it was much easier for me to find the words with which I tried to describe the depth of soul of the absent friend with and pass on the message he sent to us. Therefore be sure to listen to Freddie Mercuryís songs because they are not fashionable and passing but were created to rumble with all their power; theyíre also a message for millions, made for the future.