IS THIS THE WORLD WE CREATED?

Sung by: Freddie Mercury

Lyrics by: Freddie Mercury, Brian May

WHY AYRTON?

ďAlso my time will come, but like with Ferrari, only God knows whenĒ.[1]

Ayrton Senna

When I was reading different books about Ayrton Senna, I came across the assumption that he had an inexplicable effect mostly on women "of all age, culture and nationality". This was written by Christopher Hilton who received piles of letters, and all of them from women, after publishing his first book about Ayrton (while Ayrton was still alive).

I wouldnít agree with this opinion. The values which Ayrton presented make the very essence of life and many people unconsciously felt it and that was the reason he was so adored in the range which was extremely wide: the old and the young loved him, men, women and children all loved him comparably. As to women, they only had an advantage over men because they had more possibilities to loudly express their feelings. For men outside the limiting world of sport there arenít many ways to show what they really feel. Women can do that, they are anyhow considered inferior in this civilization where only menís principle is taken as a foundation and "sentimentality" isnít appreciated very much. Because of this inequality in the essence the balance is thrown into disorder and this whole world is dangerously tilting as we all witness. And Ayrton, who had balanced soul structure and to whom a sight at the devastated face of this world caused so much pain in his heart was aware of this too. Inequalities of any sort perturbed his spiritual peace, and one of the biggest inequalities is most certainly the poverty of the larger part of Brazil (and the world, as a whole).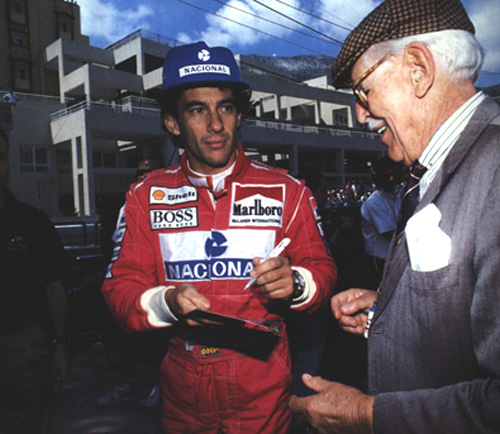 "It cannot go on like this", he was forced to say although he knew that he was almost helpless alone like he was. "The wealthy can no longer continue to live on an island in a sea of poverty. We are all breathing the same air. People have to have a chance, a basic chance at least. A chance of education, nutrition, medical care. If this does not begin to happen then there is little hope for the future and little wonder that the problems become greater and that violence arises."
And he also said: "All I can see is that conditions for the vast majority of Brazilian people are getting worse and that is virtually impossible to work against that trend. It touches me deeply and worries me considerably."
But he was still persistently working against that trend and thatís why the spiritual aspect of Ayrtonís activity isnít the only one because his actions in this world were also entirely concrete and material. What do you think he did after the tiresome summer season in Europe had finished? He returned home to Brazil where there was the summer again. Ayrton was a person who didnít have time for winters because there was so much he needed to do before his leaving. Only after his death it became globally known that he was engaged in lots of humanitarian work. He himself kept it a secret out of fear they would be misunderstood. He wanted to keep their essence healthy, this was his aim. He also understood it was necessary to act at the roots, with young people, they need to be educated and given at least the basic chance because without it, there are no permanent results. We donít know all of his actions in this field, in global terms it remains largely unknown and he once said:
"When you see children on the streets who are barely surviving, you realize that you have to do something, but youíre never going to be able to change the whole world on your own. But you can make your own contribution to changing the part of it. What I do to combat poverty Iíll never say. F-1 is nothing compared to this tragedy."
Now, after his death, some things are yet known. While he was still alive he managed to finish one of his projects which could be named a dream come true. He initiated publishing comics for youngsters called "SENNINHA". This comic book is his visible inheritance, something like physical extension of his life. And why did he choose a comic book as a way of communication, because he could have chosen some of the most modern media, but yet he chose this one, which can seem maybe a bit old fashioned? But Ayrton knew that a comic book you hold in your hand can be like your best friend, that you arenít alone with it. You can read it anywhere, it is with you all the time, within your reach, you can keep it and read it again after some time - it is permanent and loyal. And what is very important, you alone relive the characters in your fantasy and live with them, it isnít like TV where already made, foreign ideas and pictures are pushed into your mind by force. TV is in fact a very dangerous medium especially in the hands of unconscientious people. And then, there is that very important fact that comic books can be read by everyone, even those who donít have TVs or videos, satellite dishes or internets. Those were the ones Ayrton had thought about the most and therefore he decided for the comic strip, and except this he knew that comics are mainly read by young people. They were the ones to whom Ayrton wanted to give an example of something positive because he knew that if children were deprived of proper upbringing every effort taken later would be in vain. He constantly pointed out how upbringing is very important and, through his comic strip, he tried to act in that direction. He was able to educate positively with his very name which was known to everybody as well as the values behind that name.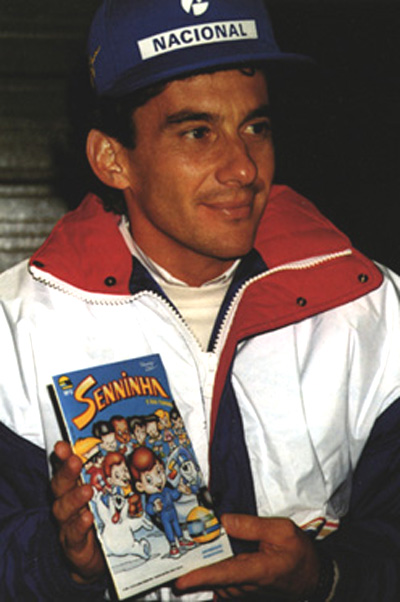 "Through "Senninha" I would like to communicate something of my own values that are important to me: ethics, friendship, healthy lifestyle, environmental awareness - and also simple things like correct behavior in traffic", this is how Senna described what he wanted to achieve by publishing the comic book.
The character of Senninha was imagined progressively "because Senninha adores modern technology but is nevertheless committed to preserving moral and emotional values which are more and more often forgotten in our society", emphasized Senna.
Consistent to those values Ayrton developed through his life such a strong and qualitative human and sportís personality and earned such a huge popularity that great sums of money have been collected by selling his image and name. And this money is used for charity. One thing arose from the other and now continues to live its life.
Since its inception in 1995 the Ayrton Senna Foundation has developed and supported programs which help more than 40,000 children and adolescents who would otherwise be in social and/or personal risk (information taken from official brochure of "Ayrton Senna Foundation" which is presided over by Ayrtonís sister Viviane.)
When we look at work of Ayrton Senna, we cannot but admire the exceptional quality of this man who had a restless soul like all those people who donít like the face of this world. One Jewish legend says that in every generation there are 36 rightful men whose existence guarantees the survival of human kind. Doesnít it impose upon you that Ayrton Senna might be one of them? Or according to Daniel Quinnís "Ishmael", we immediately recognise Ayrton as the Leaver (which are unfortunately so rare) and not as a Taker.[2]
Looking from this aspect we can also comprehend why he had to die so young and so alone. Because, if there were at least two of his kind uniting their forces they would be able to substantially change the face of this planet. Jesus told us about it: "Again, I tell you that if two of you on earth agree about anything you ask for, it will be done for you by my Father in heaven. For where two or three come together in my name, there am I with them." Thatís why the real prince of this world[3] is very careful about something like this to happen and too often the destiny of really exceptional people is to die when theyíre very young and often in a very cruel way, perhaps to frighten in advance all those who might try to follow them on their difficult journey.
I donít know the ways of fate nor can I foresee the future but I am certain of one thing: nothing can erase Ayrton Senna from the souls of those people who treasure his image and his work "on the left side of their breast." They are the guarantee that his time has come and will last. [4]
---